thee inspiration:
a waffle knit top with print balloon/lantern/puff sleeves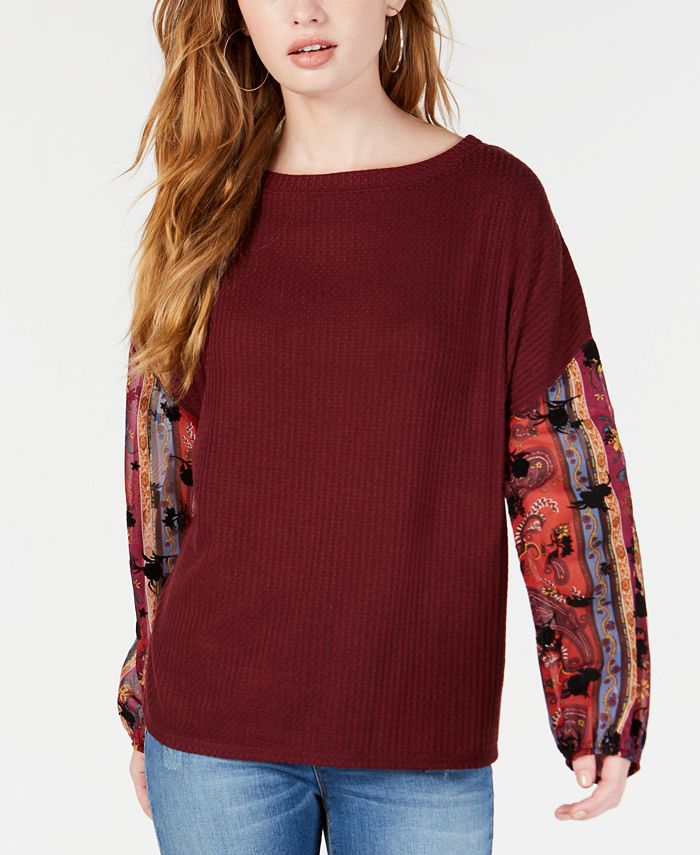 I had made this dress so long ago, it no longer fits. I only wore it a couple times so the material is still in like new condition. Rayon/challis fabric generally lasts really well and is easy to care for. Since the print is a patchwork I thought it would work great for this idea.
Most loose fit waffle knit tops come with dolman sleeves.
A
dolman sleeve
is a
sleeve
made from the same piece of fabric as the bodice.
Almost a bat-wing type
sleeve
, the
dolman
has a dropped shoulder and a wide arm hole that then tapers down to your wrist.
So the
sleeves are made in two parts. Take your waffle knit top and cut the lower sleeve parts off. That's what you'll replace with your print fabric and use them as your pattern.
You want to cut the new sleeves whatever width for the amount of volume you want. I did double the width of the original sleeve. Although, the top of the new sleeve should be the same width as where you're attaching it back onto. The volume will be concentrated on the wrist with elastic. This is the shape I ended up with.
I added a black cotton lace trim to the top of the sleeves too because I thought it would look nice. Adding extra to the extra.
You can get so creative with your sleeves. You can do sheer fabric or add tie cuffs. You can mix different prints and lace too. If your waffle knit top had cuffs to begin with. Keep them intact and attach them back onto the new sleeve ends.
☮♥♻